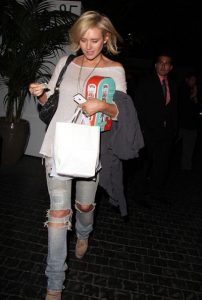 It was in 2003 that Aussie beauty Nicky Whelan started her professional acting career. She made her debut in an episode of the show Pizza. Her first starring role was as Pepper Steiger on the TV series Neighbours. In 2007, she made her film debut in Little Deaths. By 2009, she was already performing on Hollywood films and shows. Her first notable role in the US was as Maya in Scrubs. She also starred as Wendy Snow in Halloween II. She next played a supporting role in the comedy film Hall Pass. Subsequently, she starred as Laura Mitchell in Chosen and played as Charlie, a recurring part of Franklin & Bash. Her next starring role was as Annie Mason in Matador. More recently, she had recurring roles in Second Chance and House of Lies. This year, she starred in the movie Inconceivable.
Judging from her physique, it is apparent how she works out to stay in shape. Despite her nearing her 40s, she remains slender and possesses a toned figure. Normally, Nicky works out on a regular basis to keep her healthy weight and to be stronger and fitter. Exercising also helps her increase her energy levels. She also works out harder, especially if she's preparing for a specific role on TV or movie, which requires her to go through certain training.
For instance, her role in the TV series Matador was physically challenging for her. Thankfully, her fitness helped her go through the process of intense training. She said: "We had some gun training at the shooting range before we started filming. We have an incredible stunt crew onboard, but I've been able to have a few physical fights, which can be emotionally draining more than anything." "These days I change up my training a lot," she added. Interestingly, the actress has very physical hobbies, too. She likes boxing and playing soccer. She also loves skateboarding and surfing.