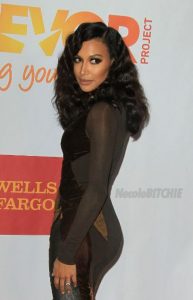 Hollywood star Naya Rivera got her start in the show business as a child. She made her debut in the early '90s as Hillary Winston on the TV show The Royal Family. Afterwards, she appeared in 3 episodes of Family Matters. The rest of the decade saw her acting in guest roles on various shows. After years of guesting, she landed the role of Donna on The Bernie Mac Show. Around the same time she made her big screen debut in The Master of Disguise. During her adult years, she got her break after getting the role of Santana Lopez on Glee. After the show ended, she appeared in 5 episodes of Devious Maids. After starring in the horror film At the Devil's Door, she recently starred in the movie Mad Families.
The former Glee star maintains her slender and toned physique by practicing proper nutrition and workouts. Even after becoming a mother, the actress remains slim, fit and healthy. It's been revealed that Naya cycles twice a week. She also receives a full-body workout at Cycle House L.A.. In an interview, she said: "I really like group classes. I love the energy feeding off of everybody else." She also takes spin classes where she performs side-to-side leans, as well as hammer curls with two- or three-pound weights for toning her arms.
When asked what she does when she can't go to her classes, she wittily replied: "Have a lot of good sex." Other than her physical routines to keep her weight on check and eating healthy, she doesn't really do any special workouts. She only does the basic. She keeps herself physically active by moving a lot. With her job as an actress, this is not really something new. She's always on-the-go, but at the same time she takes the time to go to classes because she's fond of working out while socializing.