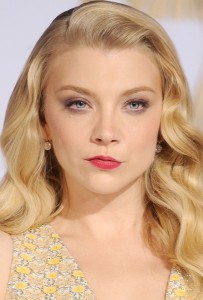 English stunner Natalie Dormer first made a strong impression as a television actress through her portrayal of Anne Boleyn in The Tudors. Afterwards, she played a role in Captain America: The First Avenger (2011). Further success came subsequently after landing a main role in Game of Thrones, which she began playing in 2012. Aside from this, she's also also acting in another television series, Elementary. With her soaring career, she was cast in a supporting role in The Hunger Games: Mockingjay – Part 1 and The Hunger Games: Mockingjay – Part 2, exposing her to wider international audiences. She has two upcoming movies next year.
With her newfound fame, Natalie is busier than ever with her beauty surely becoming highly noticed. Standing at 5'6, the actress has a curvaceous rocking body accompanied by her sultry face, which makes her perfect for her roles in The Tudors and Game of Thrones as seductive, powerful women. Although her beautiful figure is her natural body, the 33-year-old still needs to work out and eat healthy to maintain it. To keep her energetic and glowing for her long hours, she focuses on eating well. She begins her day with a green juice.
She revealed: "When you have early calls, you don't necessarily want to eat first thing in the morning. But you have such long days that if you don't, you really fall down from it. So, juicing before and eating later is, for me, a good nutritional compromise." As any health conscious, Natalie loves to eat veggies such as broccoli, kelps and mushrooms, and beans. She even likes vegetable sausage. Acknowledging the importance of proteins in her diet, she also makes sure that she eats food that's rich in lean proteins for a balanced diet. When it comes to her guilty pleasure, the Game of Thrones star admits to being fond of maple syrup.