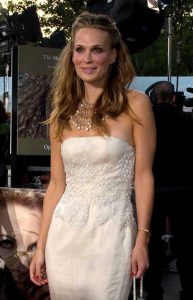 International celebrity Molly Sims garnered attention after posing for Sports Illustrated Swimsuit Issue numerous times in the 2000s. During this period, she also ventured into acting. One of her early works on television was on the MTV show House of Style. Later, Sims played the part of Delinda Deline in the NBC series Las Vegas, which she starred in from 2003 to 2008. Meanwhile, she had her first movie appearance in 2004's Starsky & Hutch. Her subsequent work in the movies was in 2006's The Benchwarmers.
Sims then reprised her character as Delinda Deline on Crossing Jordan as a guest star. The actress went on to play supporting roles in the movies Yes Man, The Pink Panther 2 and Fired Up. She also starred in the independent film Venus & Vegas. Her work in the 2010s mostly consisted of reality shows. Some of these were The Rachel Zoe Project and Project Accessory. Plus she's continued acting on some TV series as well. She's guest-starred on Royal Pains and The Carrie Diaries. From 2015 to 2016, she worked as a contributor for the television program The View.
The popular model-actress is now a much more healthy eater compared to her modeling days. One healthy food that she's now incorporated into her diet? Avocados. "I would have never eaten an avocado 10 years ago if you paid me," said Sims. "Like, are you joking? But now, instead of binging [and] not eating all day, eat it and then you won't binge."
Apart from munching on avocados, she also prefers a low-carb diet, though she's not entirely giving up on carbs. "I do think you have to have carbs. You can't live. You can't eat only [saturated] fat because then it's gonna corrode your arteries. So I think it's a really big balance, and just trying the best to be healthy, but also happy." In addition, Sims eats plenty of protein, though she follows a meatless Monday every week.