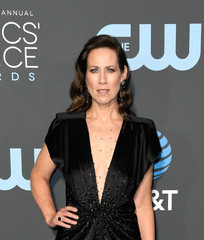 Hollywood star Miriam Shor first appeared in the 1999 films Entropy and Flushed. She next had performances in the movies Bedazzled and Hedwig and the Angry Inch at the beginning of the 2000s. At the same time, she starred as Cheryl Sominsky on the ABC sitcom Then Came You. She has since starred on mostly short-lived shows, including Inside Schwartz, Big Day, and Swingtown.
She also appeared as Carrie Parsons in 5 episodes of Damages. In the movies, she had roles in Pizza, Shortbus, and The Cake Eaters. Later in 2011, she played Anna on the miniseries Mildred Pierce. After this, she starred as Cricket Caruth-Reilly on the television series GCB as Cricket Caruth-Reilly. Between 2012 and 2014, Shor also played recurring part Mandy Post in The Good Wife.
Following this, the actress became further known for her role as Diana Trout in Younger, a role she has been playing since 2015. To add, she appeared as Erica Haskard in 6 episodes of The Americans. Also in the 2010s, she had performances in some films, which include That's What She Said, 5 Flights Up, Puerto Ricans in Paris, and most recently in 2020's Lost Girls. Her latest guest performance was in an episode of Mrs. America.
In an interview with People, Miriam Shor shares about her food choices. For breakfast, she has black tea with whole milk, pancakes with butter and syrup, Halumi eggs and salad from her favorite restaurant. For lunch, it's usually "fresh mozzarella, tomato and basil salad". When asked about her snacks, she said:
"Large handful of nuts (I feel that I should divulge the fact that I have VERY large hands) and the rest of my daughter's after-school snack — sweaty, slightly stale popcorn, but it is ORGANIC!"For dinner, she has apple and cheddar salad and pizza with all her favorite toppings, such as mozarella, mushrooms, basil and olives.