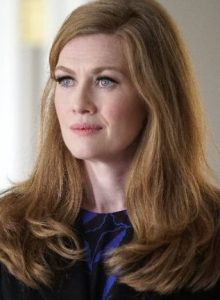 Hollywood star Mireille Enos credits her stage roots as one of the main reasons why she was able to make it right in Hollywood as a film and television actress. For someone who made her start acting in short films and making one-episode appearances on numerous shows, what she has achieved now is something she highly treasures. Her break came in the late 2000s when she got a starring role on HBO's Big Love, but it wasn't before AMC's The Killing that she got widely known. She also played the lead on the show, catapulting her to fame. Her performance on the show even got her an Emmy nomination. With this, it was only fitting for her to join big stars on the big screen such as Brad Pitt in World War Z.
The 41-year-old star and mother of two is undeniably slim for her age. Although she was already slim when she was younger, the actress admits that it is harder to maintain a slim figure as one gets older as the metabolism gets slower. So, in her case, she does the best that she can in order to keep in shape, not only to look great but to also feel good on the inside. Being a busy actress and a mother, it is crucial for her to keep her stamina going, which is another reason healthy eating is something that she's into on a regular basis.
Basically, she avoids eating fatty foods and those with sugar. She focuses on eating those rich in proteins and always with fruits and vegetables. In the morning, she starts her day right with eggs, sugar-free coffee, and wheat bread. She also believes in the importance of eating in between to avoid frequent hunger, so she mostly snacks on almonds, fruits, yogurts, and fruit shakes to keep her all filled up. For lunch, she usually has chicken and pasta with fruits. At night, she loads herself up with nutrients through fish and rice.