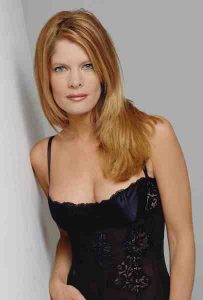 American actress Michelle Stafford had her career beginnings in the early 1990s. She debuted as Frankie on the Fox soap opera Tribes. She later made her film debut in 1993's Body of Influence. From 1994-1997, she starred as Phyllis Summers on the soap opera The Young and the Restless. She next played a supporting role in the film Double Jeopardy. She returned to the show in the 2000s, playing the part again from 2000-2013. For her performance on The Young and the Restless, she the Lead Actress Award at the Soap Opera Digest and Daytime Emmys in 2003 and 2004. She also earned multiple nominations.
She also starred as Joanna Hadley on the short-lived series Pacific Palisades. In the 2000s, she also made one-episode roles on V.I.P., Frasier, Judging Amy, Clubhouse, and Charmed. The following decade, she had a one-time role on Ringer. In 2013, she starred on the web series The Stafford Project, which she also wrote and produced. She went on to portray Phyllis Summers in the 2013 film Parker. In 2014, she began playing the role of Nina Reeves on the medical soap opera General Hospital.
Despite being in her 50s, the actress manages to stay in shape by eating well. However, it wasn't always the case. At one point, she had struggled with her weight. "I've been as much as 190 pounds and as low as 100 pounds," said the actress. "I used to be a sugarholic. I'd have cookies and coffee all day, and then go run two miles and not eat anything else for the day. I'd go to brunches and put all the desserts in my purse."
Naturally, she gained weight and to remedy that, she said she had tried all kinds of fad diets. " did the ice cream diet, starch-blocker diet, Dexatrim", revealed Stafford. It was only after her sister's cancer diagnosis in 2013 that she became more aware of the quality of foods she eats. Since then, she has switched to a healthier diet plan, mostly geared toward a plant-based diet.