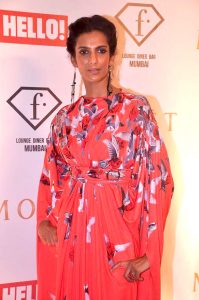 Hollywood actress Poorna Jagannathan first appeared in the television series Law & Order back in 2004. That same year, she made her first film role in She Hate Me. She appeared in another episode of the show Law & Order, as well as appeared in the movies Johny Zero, Dealbreaker, The Weather Man, and Modern Day Arranged Marriage.
Afterward, she landed guest roles in Love Monkey, Rescue Me, Awake, and The Game. She went on to have a recurring character in the television series Royal Pains. She next appeared in the film Peace, Love and Misunderstanding, as well as starred in the Bollywood movie Delhi Belly. This was followed by a role in the film Thanks for Sharing. She then returned to Bollywood with a performance in Yeh Jawani Hai Deewani.
Her next acting role was in the 2015 film Growing Up Smith, after which she played a role in Netflix's House of Cards. In 2016, she starred as Safar Khan in the HBO miniseries The Night Of. At the same time, she starred in the comedy-drama film Carrie Pilby and in the techno-thriller movie The Circle. She also starred as Larin Inamdar in the short-lived series Gypsy. The actress went on to have performances in the films Mile 22 and Share, as well as appeared in the shows Better Call Saul and Big Little Lies.
The diet plan of Poorna Jagannathan is all about sticking to a vegetarian diet to stay in shape, though maintaining a slim figure isn't the main goal in her lifestyle choice. "I believe in conscious and kinder eating," said the actress. "I don't want to eat anything that had to brutally suffer to end up on my plate … Besides, a vegetarian diet equals a healthier diet: we're less at risk for obesity, cancer, high blood pressure and many more life-threatening diseases."