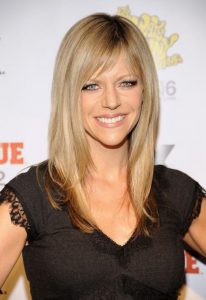 Hollywood star Kaitlin Olson started acting in 2000. She debuted in the movie Jacks and had a small role in Coyote Ugly. During this year, she also made her television debut as Aunt Lil in Scruff. She simultaneously had recurring roles in Curb Your Enthusiasm as Becky and The Drew Carey Show as Traylor. In 2002, she starred in the independent film Meet the Marks. She went on to make guest roles in Miss Match, Significant Others, and George Lopez.
After this, she appeared as herself in the sketch comedy series Kelsey Grammer Presents: The Sketch Show. Ultimately, she got her break on television courtesy of her role as Deandra "Sweet Dee" Reynolds in the FX sitcom It's Always Sunny in Philadelphia. She's been part of the show's main cast since 2005.
She went on to play Hartley Underwood in 5 episodes of The Riches. As a film actress, she appeared in Weather Girl, Leap Year, The Heat, and Vacation. Her most recent movie was in 2018's Arizona. Also in the 2010s, she's made several voice roles in animated shows. Also, from 2017 to 2018, she starred as Mackenzie "Mickey" Molng in the Fox sitcom The Mick.
The comedic actress stays in shape by living a healthy life. As she's gotten older, it's become crucial for her to be mindful of what she eats. Hence, cutting down on processed foods — basically, anything sugary and salty. Her meals mainly consist of lean meat, vegetables, whole grains, and healthy fats. She also eats plenty of fruits, mostly for snacks.
Following a healthy diet plan has since helped her maintain her weight. Nonetheless, she also sticks to a clean diet not just for weight reasons. Choosing her foods wisely also ensures her strength and overall well-being. Of course, this is what she exactly needs as a mom and actress.