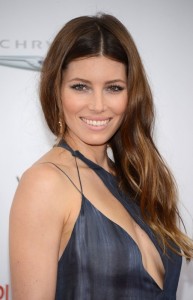 American star Jessica Biel was first a vocalist in musical productions before transitioning into television where she achieved prominence as one of the main characters in 7th Heaven. Her new-found fame led her to land pivotal roles in such movies as Ulee's Gold, The Rules of Attraction, and The Texas Chainsaw Massacre. She went on to play action-oriented roles in Blade: Trinity and Stealth, as well as star in romantic comedies like I Now Pronounce You Chuck and Larry and Valentine's Day. In the 2010s, she played starring roles in Total Recall and portrayed Vera Miles in Hitchcock. Most recent films are Accidental Love and Bleeding Heart.
Standing at 5'7, Jessica is also notable for her amazing body figure. About her experiences in dieting and working out, the actress said: "You spend months and months and months training with crazy martial arts instructors and you're on crazy diets. It's the hardest experience, it really is 'cause you're eating a lot of boring stuff – chicken breasts and vegetables all the time. But it's cakes and pastas and breads and sandwiches and croissants (you crave) all the time, that's all you can think about."
It seems Jessica is already past that since she still looks fabulous now in her 30s. Being a mother to a son she shares with her husband Justin Timberlake, she presently follows a clean diet for six days and allows herself to splurge once a week, which is something that other celebrities do. When she's working, she focuses on loading nutritious foods into her body such as plenty of vegetables, lots of quinoa and grain protein. She consumes animal protein occasionally and is also fond of fermented veggies and probiotics since these are good for her skin and digestion. In addition, she eats 5-6 times a day instead of only 3 times. This allows her to prevent intense hunger in-between meals. She just makes sure she only eats a small portion in every meal.