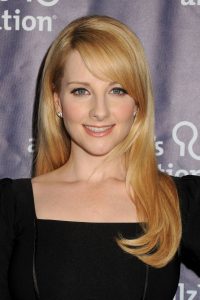 Hollywood actress Melissa Rauch had her career beginnings in the mid-2000s. During her beginnings, she appeared in the television shows 12 Miles of Bad Road and Kath & Kim. Her first movie appearance was in Delirious. She got her breakthrough after getting the role of Dr. Bernadette Rostenkowski in the famous sitcom The Big Bang Theory.
She started as a recurring character for the third season and went on to become part of the main cast from season 4 onwards. She's also played notable roles on other shows. This includes playing Summer in True Blood. She's also worked as a voice actress lately. In the 2010s, she starred in the films Are You Here, The Bronze, and Flock of Dudes. She also voiced Harley Quinn in the animated movie Batman and Harley Quinn.
The 37-year-old actress stays in shape by sticking to a healthy lifestyle. She does so not only to maintain a slender figure but to also stay healthy in general. She mostly avoids eating processed and junk foods as she notices that her body is weakened when she does. She prefers consuming foods that have high nutritional content. She avoids eating fatty, starchy, and sugary foods. She's cautious of the food she puts in her body because she wants to stay fit and healthy at the same time.
Talking about her love of healthy foods, she said: "After reading about the health benefits of Amaranth, I decided to experiment with it and I fell in love with it's comforting goodness. It's like oatmeal on steroids…not that I condone steroids. Amaranth is packed with protein, fiber, and all sorts of vitamins and minerals." She added: "The Aztecs believed it had supernatural power — I haven't experienced that as of yet, but it is a fantastic pre-workout breakfast that gives me tons of energy."