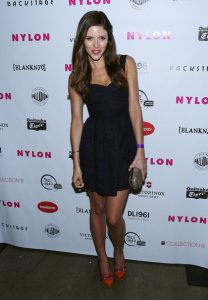 Hollywood star Kayla Ewell had her career beginnings in the early 2000s. As she was starting to pursue acting, she made guest appearances in various shows. This includes Freaks and Geeks, Profiler, and Boston Public. Her first starring role on television was as Caitlin Ramirez in the soap opera The Bold and the Beautiful. She also had small roles in the films Just My Luck and Material Girls. She later had recurring roles in The O.C. and Entourage.
Her major break came after landing the role of Vicki Donovan in The Vampire Diaries. She was part of the show's main cast in the first season. She returned as a recurring and a guest star in later seasons. She went on to star in several TV films. She also continued guest starring on a couple of shows. She also acted in some independent films. As of 2017, she stars as Victoria in the show Me and My Grandma.
The 32-year-old actress stays in shape by living an active lifestyle. She loves moving around and challenging her body through different workouts. Being an actress, she naturally has an on-the-go lifestyle, which helps her become even more active. Moving her body and sweating through various activities help her maintain her slender figure. Of course, she also works out not only to look amazing but to also feel healthy inside out. Exercising makes her feel great about herself too.
In an interview, she shared about her fitness habits. She said: "I've been a dancer forever, so I've danced for a long time and I go to the gym to workout." She also works out by engaging in outdoor activities. She loves nature so she makes sure that she spends some time having fun outside. One of her favorite activities is surfing. She revealed: "I surf a lot, and am just always staying active — but I also indulge as well."