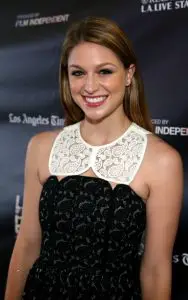 Melissa Benoist is an American actress and singer whose career in Hollywood began on the big screen with the low-budget film Tennessee. A few years after she focused her time and efforts on television, landing one-episode roles in a variety of television shows, most notably on Homeland. Afterwards, she successfully auditioned and got the role of Marley Rose on Glee, which instantly brought her to mainstream attention. She was first a recurring character in Season 4 and became a main cast in Season 5. Simultaneously, she landed a supporting role in the acclaimed feature film Whiplash. Continuing her success, she secured the lead role on the television adaptation of Supergirl, which she started playing last year. In addition, she has appeared in the movies Danny Collins, The Longest Ride, and Low Riders.
Ever since Glee, the beautiful actress has continued to capture our attention with her pretty face, slender figure, and amazing talents. Confident with her figure, it can still be surprising to know that the actress once stripped off her clothes for her guest role on Homeland, in which she played a young woman auditioning to become an escort. It was pretty clear back then that she indeed has a thin frame. Now, however, is a different story as she plays a kick-ass superhero in the form of Supergirl. While her slim physique is already part of who she is, it becomes more important for her to work out more laboriously to achieve a lean and a fit body.
Aside from eating clean and nutritious food, Melissa also strengthens her body through physical activities to keep her stamina going. For her, being slender is not the only basis to be considered healthy. She also needs to prove that she's strong enough to handle action scenes on the show she stars in. Basically, she starts her physical journey with cardio exercises. She loves to walk, run, swim, and if she has time, play sports and join outdoor activities. She likes mixing routine to make her sessions more exciting. She doesn't want to feel that exercising is a kind of chore that she's required to accomplish. She wants to enjoy her physical routines, and mixing things up is the best way to do this.