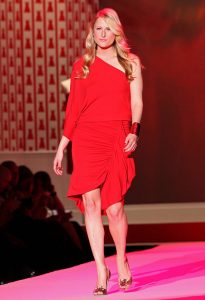 Hollywood actress Mamie Gummer had her career beginnings in the 2000s. She had initially made her movie debut as a toddler when she appeared in the film Heartburn, starring her mother Meryl Streep. In her adult years, she ultimately pursued acting full-time. She made her acting debut in the 2006 film The Hoax. She next appeared in the films Evening, Stop-Loss, and The Loss of a Teardrop Diamond. She next appeared in 3 episodes of the miniseries, John Adams.
Subsequently, she had roles in the films Taking Woodstock and The Lightkeepers. In the 2010s, she had a recurring character as Nancy Crozier in the show The Good Wife. She later played the titular character in short-lived series Emily Owens, M.D. At the same time, she had performances in the films Side Effects and The Lifeguard. This was followed by roles in the feature films Cake, The End of the Tour, and Ricki and the Flash. Other television credits were as Nora in Manhattan and as Helen Sabine in The Collection.
The 35-year-old actress stays in shape by trying her best to stick to a clean diet plan. In an interview, she got candid about her eating habits and preferences. "Breakfast is always at home. I microwave a mean oatmeal and can usually manage some variation of granola, fruit, and yogurt," she said. She also loves smoothies and hers usually comprises of "kale, bananas, almond butter, cashew-hemp-almond milk, protein powder, and a wrap" from Organic Avenue.
For her lunch, she loves having a salad consisting of "quinoa and chicken and a mess of other delicious fresh vegetables". The actress also mostly eats out. She admits to not being a cook, though she can cook if she wants to. " I can do a really solid roast chicken, and I love a board, any kind of board: meats and cheeses and nuts," she said.