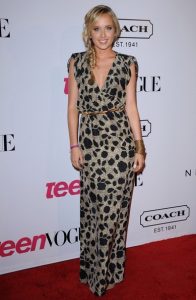 Canadian star Megan Park debuted in the early 2000s, first appearing in the TV movie This Time Around. She next had a role in another TV film called She's Too Young. At the same time, she had a recurring role as Jessica Fisgus in the children's series Ace Lightning. On the big screen, she had her first work in the independent film Some Things That Stay. In 2007, she had roles in the films Charlie Bartlett and Diary of the Dead. She also had roles in the made-for-television movies The Road to Christmas, The Dark Room, and Kaw.
Park gained mainstream recognition for her role as Grace Bowman in the ABC Family teen drama series The Secret Life of the American Teenager. She starred on the show from 2008 to 2013. Simultaneously, she starred in the movies A Cinderella Story: Once Upon a Song, Guns, Girls and Gambling, So Undercover, and The F Word. She also guest-starred in Happy Endings and The Newsroom.
Afterward, she played recurring character Jane in The Neighbors and Rose in The Lottery. Her work in the movies also became more prolific with performances in Demonic, Room, and Central Intelligence. Back on TV, she guest-starred in Jane the Virgin and appeared in three episodes of Imposters. She also starred in a lot of Hallmark and Lifetime movies. In 2018, she starred in the romantic film Dog Days.
The actress suffers from rheumatoid arthritis but she makes her condition manageable by maintaining a healthy lifestyle. This allows her to work even though acting can be physically demanding at times. On her day to day, she usually eats foods that are clean and nutritious. These are foods high in protein, fiber, and other vitamins and minerals essential to keeping her strong. Breakfast is usually toast and egg or whole grain cereal or oatmeal with fruits. Lunch is fish or chicken with salad and dinner is pretty much the same thing. She also snacks on the healthy ones — almonds, fruit shakes, and protein bars.