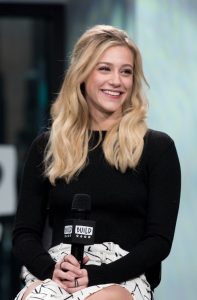 Hollywood actress Lili Reinhart had her career beginnings in the early 2010s. Among her early works were a few short films. Her movie debut was the titular character in the film Lilith. That same period, she guest starred in an episode of Law & Order: Special Victims Unit. It was followed by a guest appearance on Scientastic!. She next appeared in the film Not Waving But Drowning. Subsequently, she had roles in the movies The Kings of Summer, Gibsonburg, and Forever's End. She had also appeared as Heather Blumeyer in six episodes of Surviving Jack. In 2016, starred in two films: The Good Neighbor and Miss Stevens. It was, however, her role as Betty Cooper on Riverdale that got her more famous.
The 21-year-old actress loves her fast food. She's vocal on social media for her love of food despite some body shamers criticizing her choice of food. Some comments are about her gaining weight because of her food choices. But the sassy actress is not letting other people tell her what she can and cannot eat. When a body-shamer on Twitter told her "I just don't want your talent to be overshadowed by your weight", the actress responded: "Thank you so much for being concerned about my weight. I'll respond later after I finish my double cheeseburger."
She had also posted a selfie video on Instagram, saying: "So today basically I was fat-shamed on Twitter, that's what it's called, and my response is basically, don't let anyone f–king tell you what you can and can't eat. And also, kiss my ass, because I love my Taco Bell, bitch." She then posted on Twitter: "You can't eat Taco Bell if you're an actress on the CW." Being in her early 20s, the Riverdale star takes her time to eat anything she wants.