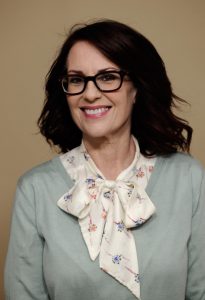 Hollywood actress and comedian Megan Mullally got her start in the 1980s. During her initial years, she had roles in the films Risky Business, Last Resort, and About Last Night… She also starred in the show The Ellen Burstyn Show. In the '90s, she first had main roles in the short-lived shows My Life and Times and Rachel Gunn, R.N. She next landed guest appearances in various TV shows. She then achieved her major break after securing the role of Karen Walker on the sitcom Will & Grace. For her performance, she won the Primetime Emmy for Outstanding Supporting Actress twice.
After it ended in 2006, she started hosting her own show The Megan Mullally Show. She next starred as Chief in the series Childrens Hospital, playing the said role from 2008 to 2016. Simultaneously, she also had notable roles in other TV shows, including Parks and Recreation, In the Motherhood, Party Down, Breaking In, and You, Me and the Apocalypse. In the 2010s, she also had roles in the films Date and Switch, Why Him?, Lemon, and Infinity Baby. In 2017, she started reprising her role as Karen Walker in the continuation of the sitcom Will & Grace.
The comedic actress will turn 60 this year but it sure isn't the case when you look at her. So, what's her secret to staying in shape? Exercising and eating right. For one, she mostly eats organic foods. "I don't eat a lot of sugar, and eating unprocessed foods makes a big difference in my weight and energy. As you get older, your body just doesn't really tolerate outside interference, including alcohol and junk food," she said.
Overall, she's sticking to a healthy lifestyle, saying: "I'm just trying to get a lot of sleep and eat healthy. I am psychologically gearing myself up for the change in workload." She also doesn't drink alcohol as she never really liked the taste of it. Her drinking habits include only water and herbal tea, which makes a great deal of difference to her health.