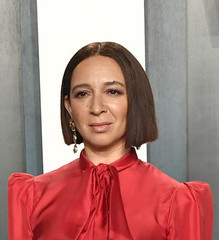 Maya Rudolph began her acting career in the 1990s, debuting with a recurring role in the TV drama Chicago Hope, as well as appearing as an extra in a few films. After starring in the short-lived drama City of Angels in 2000, she became a main cast member of the sketch comedy program Saturday Night Live until 2007, gaining her mainstream recognition.
During her SNL stint, she landed many roles in movies, mostly in comedy, such as in Duplex, Wake Up, Ron Burgundy: The Lost Movie, 50 First Dates, and Idiocracy. She next starred as Athena Scooberman in the sitcom Kath & Kim. At the same time, she starred in the comedies MacGruber and Grown Ups.
In 2011, she starred in the widely successful Bridesmaids playing the role of Lillian Donovan, as well as starred in the TV comedy Up All Night alongside Christina Applegate and Will Arnett. The rest of the 2010s she continued starring on the big screen, securing roles in several major films which include Zookeeper, The Way, Way Back, Grown Ups 2, and Inherent Vice.
Maya Rudolph is also a voice actress best known for voicing Matilda in The Angry Birds Movie and its sequel, as well as voicing Linda Mitchell in The Mitchells vs. the Machines. More recently, Rudolph starred as Gale in Licorice Pizza and as Malvina Monroe in Disenchanted.
Maya Rudolph takes care of herself by following a healthy diet plan. While she admits to gaining weight before, especially during her first pregnancy, she's now more conscious of her eating habits. In an interview, she joked about she would eat ice cream and pancakes everyday, leading her to gain 70 pounds. She also acknowledges how her body has changed over the years. "I've been, like, 30 sizes in the last 10 years," said the actress.
In the present, she manages her body and her overall wellness by eating healthy foods most of the time and, of course, having them in moderation. While she doesn't like to deprive herself every time she has cravings, she makes sure that she doesn't overindulge. Aside from following a healthy diet that mainly involves lean proteins, fruits, and veggies, Maya Rudolph also exercises regularly to keep her body toned and strong.
For her, the secret to having a youthful glow is to simply eat healthily and work out whenever you can. Being able to rest and have a good sleep, as well as spending time with family and friends, is also great for reducing stress.