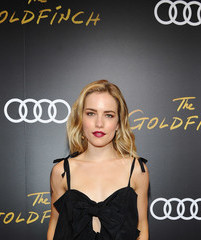 Willa Fitzgerald debuted in the 2008 independent film For the Love of a Dog. Some years later, after a series of auditions, she landed her first role on television as Lola Laffer in Amazon's Alpha House. She then starred in the pilot The Novice. After one-time roles in such shows as Blue Bloods and The Following, she appeared as a recurring character in Royal Pains, playing the part of Emma Miller.
Once again, she starred in a pilot that was never picked. Undeterred, she continued going to auditions and after a guest part in Gotham, she finally had her first lead role as Emma Duval in Scream. Based on the slasher film of the same name, the was the show's main star for two seasons. Her starring role in Scream led her movie roles, such as in 2017's Freak Show, Blood Money, and Beach House. At the same time, she starred as Meg March in the new TV adaptation of Little Women.
With no major project on TV, she guest-starred in House of Cards, Law & Order: Special Victims Unit, and Younger. She then returned to primetime when she landed the role of Colette French in Dare Me. At the same time, she starred in the 2019 film The Goldfinch. The following year, she guest-starred in an episode of Billions. Fitzgerald's latest work is her role as Roscoe Conklin in the Amazon Prime series Reacher.
What is Willa Fitzgerald's Diet Plan?
Willa Fitzgerald isn't crazy about diets, but she makes sure she's strong and healthy – something you can only achieve by eating well and exercising. Being an actress means her routine will always be unpredictable but one constant aspect in her life is mindful eating.
To do this, she picks mostly whole foods for her meals and snacks, lessen added sugar, be more conscious of when she's actually hungry or just bored, savor every meal, and discover what food makes her feel good. When she's working, she avoids unhealthy snacks by stacking her trailer with almond butter, dark chocolate, rice cakes, protein bars and prepped-lunches.
She also has a different definition of balance when it comes to diet plans. "For me, "balance" involves eating mostly plants, never avoiding carbs or entire food groups, and always leaving room for Van Leeuwen ice cream," said the actress. "Food is such a pleasure, so taking that time and connecting with what I eat is the real priority."