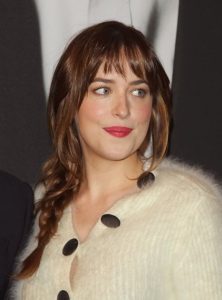 Dakota Johnson just recently got her major break after landing the role of Anastasia Steel in the movie adaptation of Fifty Shades of Grey. Prior to this, Dakota was already in the entertainment industry because her parents are actors Melanie Griffith and Don Johnson. She also grew up with former step-dad Antonio Banderas. In her adult years, she decided to pursue acting full-time, first appearing in The Social Network. She then had a lead role on the comedy series Ben and Kate, though it was cancelled. She returned to the big screen and played supporting roles in 21 Jump Street, The Five-Year Engagement, Date and Switch, and Need for Speed. In 2015, she starred on Fifty Shades of Grey as the female lead, which got her international prominence. She will reprise her role in the upcoming sequels. She also recently starred in the comedy film How to Be Single.
The 26-year-old actress did a lot of nudity in Fifty Shades of Grey. With the huge commercial success of the movie and being a big boost to her career, it seemed to be worth it. But the physical preparations that Dakota has undergone to make sure she looks the part, as well as feel strong and healthy, was kind of challenging. Although she played like a damsel in distress type in the movie, her inner character was actually strong. Thus, as Ana becomes stronger in the movie, Dakota also needs to make adjustments to her body.
Aside from eating clean and healthy food, she also work outs regularly. Although she's naturally slim, Dakota is not complacent and actually exercises not to stay slim, but to become fit. Because her character is that of a regular college girl-turned-employee, she contents herself with doing Pilates and cardio such as running and swimming. Even though simple, this routine helped her achieved a more toned body. It is said that Pilates workouts are particularly designed to tone one's waist and legs.