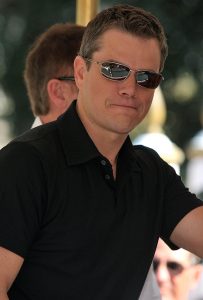 Matt Damon is an American actor and now a filmmaker. He started his career in the 1980s with his debut in Mystic Pizza. It then took him more than a decade before attaining his major breakthrough in the movie Good Will Hunting, a movie he also wrote alongside childhood friend Ben Affleck. The movie got him an Academy Award nomination for Best Actor and won him and Affleck the Academy Award for Best Original Screenplay. Shortly after, he was further known for his role in Saving Private Ryan. He is perhaps best known for his role as Jason Bourne in the Bourne film series. He recently starred in The Martian, which got him an Academy Award nomination in the lead actor category.
The 45-year-old actor still looks fit and healthy. Despite being in his mid 40s, he's still got it in him. In fact, he is currently shooting the upcoming film Jason Bourne, the fifth film in the Jason Bourne series. He also has a couple of other upcoming projects. With his busy career and also being a family man, it is amazing how the actor can maintain a very healthy lifestyle. Probably because working out and eating healthy is part of his job, because he needs to look good, first and foremost, while staying lean and healthy as well. Fans of the actor do wonder what his diet plan is, how he manages to maintain his weight and his average yet toned body.
For his role as Jason Bourne, Matt imposes focus and discipline when it comes to food he consumes. Interestingly, he eats six times a day, with meals consisting of about 50% protein, 25% healthy fats and 25% carbs. His breakfast typically consists of three hard boiled eggs and a glass of milk. This is to provide his body of its needed energy before working out. To further fuel his body for workouts, he eats whole wheat toast and nuts with a tablespoon of honey. For lunch, he normally eats skinless chicken breast or lean steak while dinner mostly involves fish or red meat-based protein.