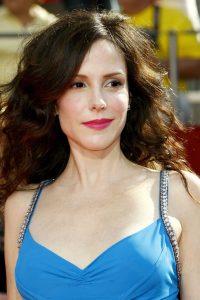 Hollywood star Mary-Louise Parker had her career beginnings in the 1988 TV movie Too Young the Hero. She next had her first movie role in 1989's Signs of Life. During the 1990s, she had roles in the films Fried Green Tomatoes, Grand Canyon, Naked in New York, The Client, Reckless, Boys on the Side, and Goodbye Lover, among others. During this period, she also had performances in several TV movies.
In the 2000s, she became known for her role as Amy Gardner in The West Wing. Later, she played Harper Pitt in the HBO miniseries Angels in America. Louise-Parker garnered wider success when she landed the part of Nancy Botwin in the Showtime series Weeds. She played the lead on the show from 2005 to 2012 and between 2007 and 2009, she received Primetime Emmy nominations for Outstanding Lead Actress in a Comedy Series.
Simultaneously, she had performances in the films Romance & Cigarettes, The Assassination of Jesse James by the Coward Robert Ford, The Spiderwick Chronicles, and Solitary Man. In the 2010s, she starred as Sarah Ross in Red and Red 2. Her most recent work on the big screen was in 2018's Red Sparrow. Back on TV, she portrayed Roma Guy in the miniseries When We Rise. She also played Janey Patterson in the crime drama Mr. Mercedes.
Mary-Louise Parker maintains a healthy body by eating clean and living an active lifestyle. As part of her fitness regimen, she combines cardio, yoga, and Pilates. She's also upped her workout training by doing circuit training and even weights, though she admits she hasn't been consistent. She's also been trying other types of workouts, discovering classes to figure out what she loves. Of course, being a prolific actress also gets her to work out by simply being on the go.