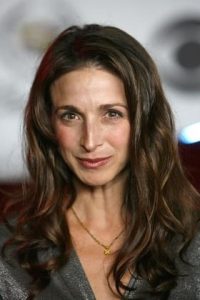 Hollywood star Marin Hinkle had her career beginnings when she debuted in the 1994 film Angie. This was followed by more performances during this period. This includes roles in the films Milk & Money, Breathing Room, and I'm Not Rappaport. On television, her first starring role was as Judy Brooks on the ABC series Once and Again. Simultaneously, she also had roles in the movies Frequency, Final, I Am Sam and Dark Blue. She later became widely known for playing Judith on the sitcom Two and a Half Men.
She played the said character from 2003 to 2015. At the same time, she starred in the movies Friends with Money, The Ex, Turn the River, Rails & Ties, Quarantine, The Haunting of Molly Hartley, Imagine That, and Weather Girl. In the 2010s, she's also had notable parts as Samantha Bowers on Deception and Isabelle Barnes on Madam Secretary. From 2016 to 2017, she starred as Dr. Miller on the ABC sitcom Speechless. She next played Christine Lonas on Homeland. As of 2018, she stars as Rose Weissman on the Amazon series The Marvelous Mrs. Maisel.
She may already be in her 50s but the film and TV actress sure knows how to maintain a slender figure. In general, Hinkle credits her healthy lifestyle to having a great physique. She works out and she also eats clean — at least most of the time. There are also some occasions where the stage and screen performer can't also resist some indulgences like a Diet Coke, which she said is a preference she's not very proud of.
Nonetheless, performing also means she needs to have the right amount of energy levels and focus, which also means she needs to eat healthily. For her fans wondering what foods she eats prior to appearing, say on stage, the actress revealed in an interview: "From any NY diner I try to have a bowl of soup (chicken noodle or vegetable), a small salad with no onions, french dressing on the side, and a toasted bagel with butter. And a Diet Coke with a lemon if I am being particularly unhealthy. I love Cafe Edison. Or Westway. Or Cozy Soup and Burger."