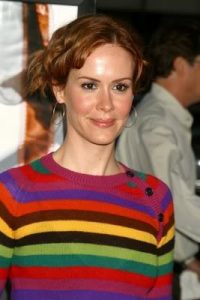 Award-winning American actress Sarah Paulson started her career in the mid '90s by guesting on the TV series Law & Order. Her first main role was on the horror series American Gothic. Before the decade, ends she appeared in the films Levitation, The Other Sister, and Held Up. Her next main stint on TV was on Jack & Jill. She went on to star in the TV movie Path to War. Her role as Harriet Hayes on Studio 60 on the Sunset Strip earned her critical praises. Since 2011, she's been starring on American Horror Story in all its seasons. She simultaneously starred as Nicolle Wallace on the TV movie Game Change.
The 42-year-old actress' career is more promising as ever. Her regular stint on American Horror Story has since made her internationally recognizable. It's also amazing how the actress who's in her 40s can manage to maintain her slender and lean figure. As she had mentioned in an interview, getting a slim appearance is something that people work hard for. She even made fun of how other actresses say they eat a lot and not gain weight.
Even with her busy schedule, Sarah manages to spend time working out. She mentioned that she would go to the gym before going to red carpet events as some sort of preparation. The actress also allots to do even simple exercise daily to get her blood running greatly. Exercises as simple as running and walking are good enough. Also to add that her work in the movies and television also get her up and moving most of the time. In short, Sarah doesn't stay complacent when it comes to her health and fitness. She allots time and efforts to be more active than she already is. For this reason, she looks incredibly great for her age.