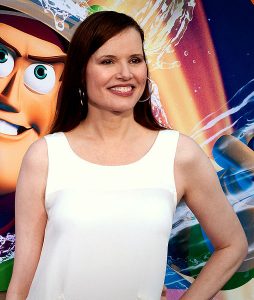 Hollywood star Geena Davis debuted in the 1982 film Tootsie where she starred as April Page. She next starred in the films Fletch and Transylvania 6-5000. Around this period, she starred as Wendy Killian in the TV series Buffalo Bill. She became further known for starring in the movies The Fly and Beetlejuice. She also played the titular character in the short-lived show Sara.
Her role in the 1988 film The Accidental Tourist won her the Academy Award for Best Supporting Actress. Later in 1991, she played Thelma Dickinson in the movie Thelma & Louise, which earned her an Academy Award nomination for Best Actress. The rest of the '90s saw her starring in the feature films A League of Their Own, Hero, Angie, Speechless, Cutthroat Island, and The Long Kiss Goodnight. She next starred as Mrs. Eleanor Little in Stuart Little and its sequels.
From 2000 to 2001, she starred as Teddie Cochran in The Geena Davis Show. She next starred as President Mackenzie Allen in Commander in Chief. She went on to star in the film Accidents Happen. In the 2010s, the actress had performances in the movies In a World…, Me Him Her, and Marjorie Prime. She also played Dr. Nicole Herman in Grey's Anatomy, as well as starred as Angela Rance in the Fox series The Exorcist. Her latest role was as Sandy Devereaux St. Clair in the Netflix series GLOW.
Geena Davis stays in top shape by sticking to a healthy lifestyle. She works out, lives an active life, and most importantly, eats well. She's never believed in dieting but that doesn't mean that she eats carelessly. In her 60s, she's already integrated a clean diet into her lifestyle. Hence, avoiding processed and other unhealthy foods is easy to do. She prefers a plant-based diet, however, she eats meat occasionally. Most of the time, she eats salads, whole grains, fruits, nuts, and yogurt as part of her diet plan.