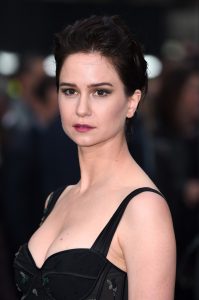 Hollywood star Katherine Waterston had her career beginnings in the late 2000s, making her debut in the film Michael Clayton. She next appeared in the movies The Babysitters, Good Dick, and Taking Woodstock. In the 2010s, her acting career became more prolific. She had roles in the films Enter Nowhere, Being Flynn, The Letter, The Factory, and Night Moves. She also started her television career with her role as Emma Harrow in five episodes of Boardwalk Empire.
She went on to star in the films The Disappearance of Eleanor Rigby: Her, Inherent Vice, and Sleeping with Other People. In 2015, she portrayed Chrisann Brennan in the movie Steve Jobs. She later gained recognition for starring as Porpentina Goldstein in Fantastic Beasts and Where to Find Them. In 2017, she came to wider attention for playing the lead in 2017's Alien: Covenant. She also starred in the movies Logan Lucky and The Current War. She will reprise her role as Porpentina in Fantastic Beasts: The Crimes of Grindelwald.
Alien: Covenant was Katherine Waterston's physically challenging role to date. Lots of action scenes in the movies and the actress herself had to do intense training to gear herself physically and mentally. "There was a sort of fit test at the beginning that nearly killed me, but I didn't want to seem like I couldn't handle it, because I thought they might take the fun moves away from me," the actress said about what her role in the film required her to undergo.
Despite this, she said that she wasn't in the best shape of her life when she started working for the movie. And that was kind of the point for her. She explained: "I didn't want to seem like some kind of warrior at the beginning of the film, because I feel like that journey happens within it, so I didn't want to come in too ripped." Nonetheless, she still gained some muscles prior to filming in order to avoid injury.