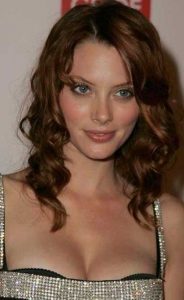 Hollywood star April Bowlby had her career beginnings when she debuted in an episode of CSI: Crime Scene Investigation in 2004. She later landed guest roles on CSI: NY, Stacked, and Freddie. Her first notable role was as Kandi on the sitcom Two and a Half Men, which she had a recurring character on the show's third season. She later starred on the TV movie Sands of Oblivion, as well as appeared as Meg in 4 episodes of How I Met Your Mother. In 2008, she made her film debut in All Roads Lead Home, followed by her performance in the movie The Slammin' Salmon.
She gained further recognition on television after getting the part of Stacy Barrett on Drop Dead Diva, playing the role from 2009 to 2014. While on the show, she starred in the film From Prada to Nada, guest-starred on the programs CSI: Crime Scene Investigation, Psych, and Mom. After Drop Dead Diva, she guest-starred on You're the Worst and starred on some TV films. This year, she appeared as Teyna on Heathers and Rita Farr / Elastigirl on Titans. She will reprise her role in the upcoming web series Doom Patrol.
The 38-year-old actress is conscious of the kinds of food she's putting her body. So, she makes sure she only eats healthy ones, at least most of the time she does. This is why she's still rocking her slender figure and looks way younger than her actual age — it's the food she eats. In an interview with Self, she talked about how she loves to start her day right with a healthy meal.
"This is my breakfast: Two poached eggs, turkey bacon, and a half avocado. The yolks in a poached egg are alkalizing. Avocados are a great source of fat and vitamin E; great for your skin. It's super light and not too heavy. Sometimes I like a little sweet as well, so I have a cup of plain yogurt with blueberries. Aaaand the best part is you can make it into a clever little face to represent your morning mood," said the actress.