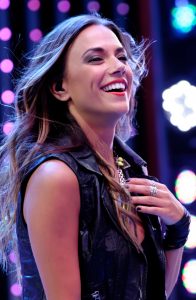 Actress and country music singer Jana Kramer first debuted in the 2002 film Dead/Undead. She later appeared in a couple more low-budget films, including The Passage, Blood Games, and Blue Demon. She later appeared as Julie in the comedy-drama film Click. On television, she had her first television role in an episode of CSI: NY. Her first notable role on TV was as Noelle Davenport on NBC's Friday Night Lights.
At the same time, she had performances in the films Boxboarders!, Prom Night, The Poker Club, Laid to Rest, and Spring Breakdown. Kramer guest-starred in Grey's Anatomy and Private Practice, as well as played recurring roles in 90210 and Entourage. Her breakthrough role on the small screen was as Alex Dupre in The CW's One Tree Hill, which she starred in from 2009 to 2012.
Afterward, she starred in the movies Heart of the Country and Approaching Midnight. In 2016, she appeared on Dancing with the Stars as a contestant for Season 23. More recently, she had roles in a couple of TV movies. She also starred in the 2018 film Support the Girls. As a singer, she released her self-titled debut album in 2012. It spawned the hit single "Why Ya Wanna". Her second and latest album, Thirty One, was released in 2015.
Jana Kramer is mindful of her food choices. Overall, she keeps a clean diet plan, which greatly helps her maintain her top shape. "Two eggs over easy with some avocado toast and fresh squeezed OJ," said the actress-singer.
"I'm not much of a lunch girl, but I snack throughout the day – apples, cottage cheese, carrots and hummus, almonds…I'm always snacking. I love a good hearty dinner: Salmon with risotto or a strip steak and a sweet potato with a kale salad."
She also snacks on smoothies, which helps her keep her energy levels up throughout the day. "My perfect smoothie would consist of kale, spinach, cucumber, parsley, lots of ginger and lemon. I love all salads, but my favorite would be a Kale Caesar," shared the former One Tree Hill actress.