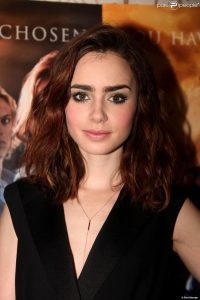 Lily Collins is best known not only for her pretty face, but also for her huge talents, which Hollywood has since taken noticed of. Daughter of singer Phil Collins, she has set her eyes on the show business at a young age, but only made her professional debut in the drama The Blind Side. She instantly secured bigger roles in Priest and Abduction. She then played Snow White in Mirror Mirror. She continued her prolific film career in mostly well-known projects, like in The Mortal Instruments: City of Bones, as well as in the romantic comedy Love, Rosie. She recently starred in the movie Rules Don't Apply.
Apparently, the actress has a skinny figure, but it doesn't mean that she's unhealthy. In an interview, Lily revealed how outgoing and physical she really is, saying she loves to run, swim, and just being outdoors with nature. That is why even though she looks frail in her figure, she has effectively played strong characters like in The Mortal Instruments: City of Bones. She has also performed action-packed scenes in her first leading role in Abduction. Another interesting thing about the actress is her love of dancing, which certainly helped her to become stronger and more energetic.
In addition, she also works out with a trainer to further help her define her body. She shared how she and her Mirror Mirror co-star Armie Hammer would work out together on a five to six-hour training sessions a day with some stunt people, which somehow motivated her to work harder. This was, of course, for her role in Mirror Mirror, where she also engaged in fighting scenes. For this, she learned how to use and fight with weapons, something she considers another form of exercise. She added that she worked with a personal trainer in Los Angeles to help her work on her endurance.