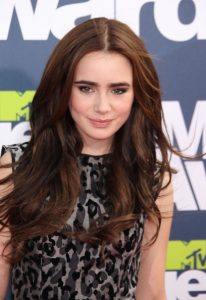 Lily Collins is an British-American actress. The daughter of singer Phil Collins, she made her debut in Hollywood in 2009. Her first film would be The Blind Side starring Sandra Bullock. Around the same time, she appeared in 2 episodes of 90210. It didn't take long for her to land starring roles. By the 2010s, she was already starring in such movies as Priest and Abduction. She next starred as Snow White in Mirror Mirror. She then portrayed Clary Fray in The Mortal Instruments: City of Bones and played the lead in Love, Rosie. Her latest film is 2016's Rules Don't Apply. Additionally, recently starred on the TV series The Last Tycoon.
The 27-year-old actress is impossible to miss. With her remarkable beauty and amazing talents, it's no wonder she's easily loved by her fans. Standing at 5'5, the actress is also noticeable for her slender figure. This is something she maintains while allowing herself to suffice her love of food. Essentially the actress sticks to a diet plan that lets her have her cravings, but she's always on the lookout as to the amount she's having. She wants to indulge herself, but not overindulge.
This is the only way one can eat his/her favorite foods sans the unnecessary weight gain. This is why the young actress does not really impose strict diets. She strongly believes that eating healthy is not only physical, but also mental. She wants to enjoy food as much as she can. Besides, it has been proven that limiting yourself with food results to just binge eating. This just makes matters worse. That is why some celebrities believe that it is still okay to have a bite of something that you find delicious. Just practice moderation when you do. No wonder Lily is slim, healthy and happy all at the same time.