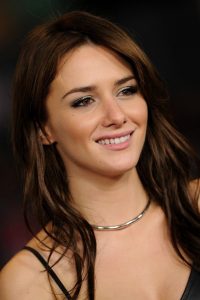 American actress Addison Timlin made her beginning in the film Derailed. This starred Clive Owen and Jennifer Aniston. Her next gigs were TV guest parts and short films. Her last film in the 2000s was Afterschool. Around the same time, she became more active on TV. She had notable roles on the TV shows 3 lbs and Cashmere Mafia. By 2010s, her career flourished. She had a remarkable character on the hit series Californication. Then she joined the main cast of the TV series Zero Hour. The series was short-lived though. She has also appeared in the crime comedy Stand Up Guys and the romantic comedy That Awkward Moment. In 2016, she will star in the film That Awkward Moment, her first lead role on the big screen.
Standing at 5'1, the petite actress looks amazing with her slender figure. She has been notable even during her initial career because of her remarkable beauty, which gives her remarkable presence on the screen. Now that she's playing the lead in a film based on a best-selling novel, we'll have to see what Hollywood has in store for her. Being in her only mid 20s, we can expect Addison to be still carefree when it comes to her eating habits. At this age, her metabolism is still pretty fast, so she does't really gain weight however she eats.
In an interview with Harper's Bazaar, the actress expressed her love of cereal. "My favorite cereal would be Corn Pops," she said. She also likes honeycombs. She also tweeted: "I think I would spend my last day on this earth eating all of my favorite kinds of cereal with a cute boy on a comfy couch." But of course, the actress knows she has to set limits. There's moderation in her eating habits. She also tries to make up when she eats junk foods by eating lots of fruits and veggies.