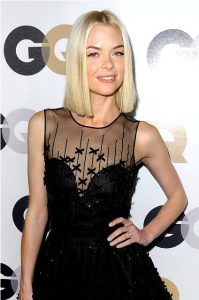 Jaime King first came to prominence as a model. Soon after, she pursued an acting career. She made her debut in 2001 with roles in the films Happy Campers, Blow, and Pearl Harbor. She was cast in more roles during this period, appearing in such movies as Four Faces of God, Slackers, Bulletproof Monk, White Chicks, and Pretty Persuasion. She was then cast as Goldie and Wendy in Sin City. She also appeared as Anne in the movie Cheaper by the Dozen 2. On television, her first starring role was as Tanya in Kitchen Confidential.
She next had notable roles in the TV shows The Class and Gary Unmarried. She also starred in the movie My Bloody Valentine 3D. In the 2010s, she was mostly known for her starring role as Lemon Breeland in Hart of Dixie. She also starred as Jackie in the short-lived series My Generation. Her film career continued to be prolific in the 2010s with performances in Mother's Day, Silent Night, and Barely Lethal. She also reprised her role as Goldie and Wendy in the Sin City sequel Sin City: A Dame to Kill For. She will star in the upcoming movie Escape Plan 2: Hades.
She may be nearing her 40s but her age doesn't stop her from being fit and fabulous. Aside from her healthy diet plan, the former model turned actress works out regularly to maintain her svelte figure. One workout she absolutely loves is Ballet Beautiful. Talking about it, she said: "I always feel so revitalized and energized after. She also likes to attend classes and exercise with her friends. Not only do they get to enjoy their routines together, it also gives them the chance to catch up.
She said: "I like working out with my friends, too. It's a good way to stay motivated, have fun, and catch up." When it comes to staying fit and beautiful, Jaime has only one advice – take care of yourself. That means to eat well, exercise, and just enjoy your life. For the actress, taking care of yourself means you can do anything you please. Of course, the star likes to exercise outdoors. She revealed: "I also love to hike and be outdoors, and just carrying around my kid for three blocks is a workout for 10 days."