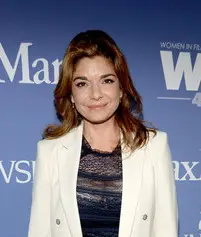 Hollywood star Laura San Giacomo debuted in an episode of Spenser: For Hire in 1987. She next made one-time roles in Crime Story, The Equalizer, and Miami Vice. In the movies, she first appeared as an extra in Miles from Home. She came to prominence for starring as Cynthia Patrice Bishop in the film Sex, Lies, and Videotape. For her performance, she won the Independent Spirit Award for Best Supporting Female.
She was also nominated for a Golden Globe and a BAFTA. During the '90s, San Giacomo had starring roles in the films Pretty Woman, Vital Signs, Under Suspicion, and Suicide Kings, among others. On television, she became known for her role as Maya Gallo in Just Shoot Me! Later, she played Harmony Chase in some episodes of Veronica Mars. After this, she landed the role of Rhetta Rodriguez in TNT's Saving Grace.
In the 2010s, she had roles in the movies Few Options, Least Among Saints, and The Meddler. She later became known for her role as Dr. Grace Confalone in NCIS. As of 2017, she also stars as Morgan Wilson in the TV drama Animal Kingdom. She also guest-starred in an episode of Grey's Anatomy. On the big screen, her most recent work was in 2019's Honey Boy.
Laura San Giacomo keeps her body in top shape by following a healthy diet. Now that she's in her 50s, she makes sure that she focuses on foods that are good for her. She has since avoided processed foods, anything sugary and fatty. She's also gone more conscious of the ingredients that she puts in her dishes, preferring them to be organic. The staples in her diet are lean proteins, whole grains, complex carbs, and fiber-rich foods such as fruits and vegetables. Hydration is also crucial so apart from eating healthy meals, she also drinks lots of water.