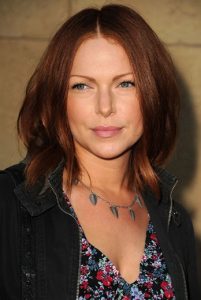 It was on Fox's period sitcom That '70s Show that actress Laura Prepon first came to prominence. Her role on the show also marked her acting debut. While on the show, she also pursued a career in film, debuting in 2001's Southlander. She next performed in the films Slackers and Lightning Bug, the latter of which she also produced. In 2006, she portrayed Karla Homolka in the movie Karla. She also starred in the film Come Early Morning. After That '70s Show finalized in 2006, she starred as Hannah Jane Daniels on the short-lived series October Road, which she played from 2007 to 2008.
She next guest-starred as Karen in 3 episodes of How I Met Your Mother. At the beginning of the 2010s, she made guest appearances on such shows as Medium, House, Castle, and Love Bites. She next starred on the TV movie The Killing Game, followed by roles in the films Lay the Favorite and The Kitchen. In 2012, she starred as the lead on the short-lived NBC sitcom Are You There, Chelsea?. She soon continued her success on the small screen as she landed the role of Alex Vause on Netflix's Orange Is the New Black, a role she continues to play up to present. She's also recently appeared as Cathy in 2016's The Girl on the Train.
The 38-year-old actress stays in shape by living an active lifestyle. Apart from her healthy diet plan, she makes sure she gets enough exercise not only to maintain her weight but to also feel good from the inside out. In an interview with WebMD, she talked about her healthy habits, including her workout routine. "I swim. I do the rebounder, which is a mini-trampoline. I take dance lessons. I love dancing — it's freeing and the body loves it. I stretch with Elizabeth (her nutritionist) to keep things open and flowing", shared the actress.