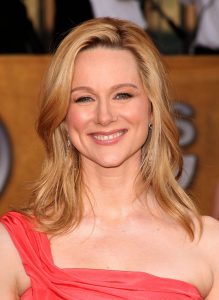 Hollywood star Laura Linney had her career beginnings in 1992, debuting in the film Lorenzo's Oil. The following year, she had her first TV role on the made-for-television film Class of '61. That same time, she starred as Mary Ann Singleton in the miniseries Tales of the City. She reprised her role in the sequel More Tales of the City. After small roles in a couple of films, she had her first starring role, playing Dr. Karen Ross in the film Congo. She next starred as Janet Venable in the movie Primal Fear. Afterward, she had a supporting role in the feature film Absolute Power. It was, however, her role in the acclaimed feature The Truman Show that gained her mainstream prominence. This led her to have a more prolific film career in the 2000s.
She starred in You Can Count On Me, The House of Mirth, Maze, The Laramie Project, The Mothman Prophecies, The Life of David Gale, Mystic River, and Love Actually. At the same time, she also played Mindy / Charlotte in the NBC sitcom Frasier. She later portrayed Clara McMillen in the movie Kinsey. Subsequently, she had roles in the films The Exorcism of Emily Rose, The Hottest State, Man of the Year, and The Other Man. From 2010-2013, she starred as Cathy Jamison in the Showtime series The Big C. As of 2017, she stars as Wendy Byrde in the Netflix series Ozark. Also during this period, she had performances in Hyde Park on Hudson, The Fifth Estate, Genius, Teenage Mutant Ninja Turtles: Out of the Shadows, and Sully.
The actress admits that she's not too crazy about following a strict workout routine. She's not strict when it comes to her diet, either. She chooses to eat healthier but she doesn't believe in dieting. "I would love to tell you that I am healthy and diet conscious. I'm just not. It has always been a real battle for me. I'm constantly just trying to be aware," said the actress. In terms of physical activity for fitness, she just tries to be natural about it — that means basically just walking. She's also into meditation. "I think meditation is my best health habit," shared Linney.