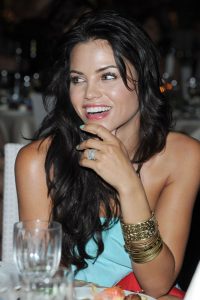 Hollywood actress and dancer Jenna Dewan had her beginnings in the as an actress in the early 2000s. She made her debut as an extra in the movie The Hot Chick. A few years later, she landed her first lead role in the independent film Tamara. She next appeared in the film Take the Lead. She made her breakthrough after landing the female lead in the dance movie Step Up, co-starring with her now-husband Channing Tatum.
She next had notable roles in the movies The Grudge 2, Falling Awake, The Six Wives of Henry Lefay, and American Virgin. In the 2010s, she starred as Bunny Janie in the short-lived series The Playboy Club. She next appeared as Teresa Morrison in four episodes of American Horror Story: Asylum. She later portrayed Freya Beauchamp in the series Witches of East End. More recently, she played Lucy Lane in Supergirl. She's also currently the host of the show Supergirl.
The 37-year-old actress stays in shape by eating right. Basically, she focuses on eating a plant-based diet, but she also revealed that she doesn't really diet. She explained: "I consider eating healthy a way of life because I feel better, plain and simple. I'm not a fan of dieting, which is why I choose to eat healthy most of the time. I keep it in balance, so I don't have to crash diet. When I want to splurge I allow myself and don't beat myself up — I just make a plan to eat extra healthy the next day or work out."
She went on to say: "I also choose to eat plant-based foods because not only is it healthy and yummy, but I feel ethically right." She believes that cutting down on meat consumption can make a difference. "We have become so off-balance with our animal consumption. Even one meatless meal a week helps!," she said.