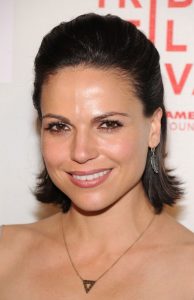 Hollywood actress Lana Parrilla successfully built a career on television. Doing her debut in 1999, she immediately landed a regular role on the TV series Spin City. After her role on the show ended, she starred on the short-lived show Boomtown. She became further known for her roles as Sarah Gavin on 24 and as Nina Schaefer on Windfall. She then joined the main cast of Swingtown, followed by the show Miami Medical. After a series of short-lived programs, she eventually found her place on the long-running series Once Upon a Time where she plays Regina Mills/Evil Queen.
She may already be in her 40s, but looking at her it's apparent how the Lana looks younger than her age. This is because she takes care of herself through exercising and healthy eating. She understands that with her age it's more crucial for her to be careful of what she eats. Despite her busy schedule, she doesn't forget to eat well. When asked what would be the ideal food for her all throughout the day, she answered: "For breakfast, a smoothie and fresh fruit. For lunch, a chopped quinoa and kale salad with chicken. For dinner: Fish with grilled veggies."
Because of her active and on-the-go lifestyle, there are times that she doesn't have much time to prepare her meals. In the morning, she turns to a green smoothie or acai bowl as her go-to breakfast. What about her go-to lunch? She said: "My go-to lunch on set is tuna salad lettuce wraps with red peppers." With her love of smoothies, the actress said she prefers her smoothies to have almond milk, banana, kale, hemp protein power, maple syrup, bee pollen, maca and mango. She always brings chocolates with her wherever she goes. It's one of her indulgences in addition to yam fries.