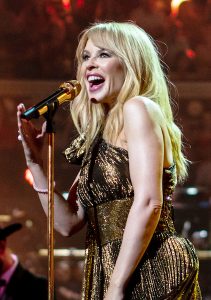 Aussie celebrity Kylie Minogue had her career beginnings in 1979. She first appeared in an episode of the TV show The Sullivans. During the 1980s, she landed her breakout role as Charlene Robinson in the popular soap opera Neighbours, which she starred in from 1986 to 1988. She won the Most Popular Actress Award at the Logie Awards for her work here. After this, she made her cinematic debut in the 1989 film The Delinquents.
Also in the '80s, she started earning prominence as a recording artist. Later in 1994, she starred as Cammy in the film Street Fighter, as well as starred in the movie Bio-Dome two years later. During this period, her singles "The Loco-Motion", "Hand on Your Heart", "Better the Devil You Know" and "Step Back in Time", among others, gained her wider success. Her 2001 album Fever became her best-selling album to date and introduced her to greater international audiences.
With the widely successful lead single "Can't Get You Out of My Head", Minogue became an international star. This was followed by other successful singles "Slow", "2 Hearts" and "All the Lovers". Despite her prolific recording career, Minogue continued her work on the big screen, appearing as a cameo in Moulin Rouge! and doing voice work for The Magic Roundabout. In the 2010s, she had performances in the films Jack & Diane, San Andreas, and A Christmas Star. Her most recent work as a movie actress was in 2017's Swinging Safari. She next appeared in The Voice UK as mentor.
Now in her 50s, Kylie Minogue maintains her youthful glow by watching what she eats and following an active lifestyle. In an interview, however, the singer-actress admits to having no workout routine. "My guilty confession is that there isn't [a routine]!" said the actress. "I think I stay in shape with an active lifestyle. My fitness is really sporadic. I have to thank my mum for good genes as I am tiny, just like her," she continued.