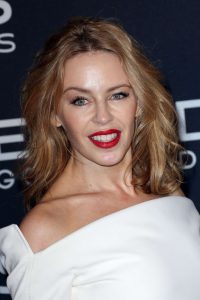 Australian singer and actress Kylie Minogue initially began an acting career in the late '70s. In the 1980s, she landed her breakthrough role as Charlene Robinson in the Australian soap opera Neighbours. It was also during this period that she released her first album, Kylie. She made her movie debut in the 1989 feature The Delinquents. The following decade, she starred in the films Street Fighter and Bio-Dome.
She released more follow-up albums in the '90s but it was her eight album, Fever, released in 2001 that gained her international fame. Its lead song "Can't Get You Out of My Head" became one of the most popular songs in the 2000s. She also continued her acting work, making a cameo appearance in Moulin Rouge!. In the 2010s, she appeared in the films Holy Motors, Jack & Diane, San Andreas, and Swinging Safari. This year, she appears as a mentor in The Voice UK. She will release her upcoming fourteenth album this year.
She may be turning 50 this year but Kylie Minogue looks younger than her actual age. This may be attributed to her clean and healthy lifestyle. In an interview, she revealed that while she does not follow any specific diet plan, she generally is a healthy eater. She naturally avoids processed and junk foods. For her, choosing nutritious foods over unhealthy ones is something that's natural for her.
She knows what her body needs and that's what she gives it. On the other hand, she also gives in to her indulgences but only in moderation. When asked if she diets, she responded: "No, but I'm a healthy eater. I haven't had it confirmed by a doctor, but I'm pretty sure I'm hypoglycaemic, which means I need to eat more regularly than most people. I became interested in following a low-GI diet a long while ago and it works for me."