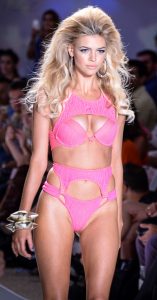 As an actress, Kelly Rohrbach started her Hollywood career in 2012. She debuted in the movie Wilt. The following year, she had a guest appearance in an episode of The New Normal. At the same time, she had a one-time role in Two and a Half Men. After this, she landed a two-episode role in Rizzoli & Isles. Her first starring role on television was as Jayne Duncan in the short-lived series The PET Squad Files. Rohrbach later had one-time roles in Rush, Deadbeat, Broad City, and Angie Tribeca.
Also, she starred in the made-for-television movie Love is Relative. On the big screen, she had an uncredited role in the film Café Society. She then gained wider recognition after landing the part of C. J. Parker in the movie Baywatch. Following this, she had a cameo role in Ocean's 8. This year, she appeared as Cassidy Reid in 2 episodes of Yellowstone. Plus she also starred in the feature film A Rainy Day in New York.
Baywatch was Kelly Rohrbach's first major role on the big screen. To prepare for this, she went through training for that beach-ready body. Because she did a lot of heavy and intense workouts, she didn't need to worry about her diet. "I'm a pretty hefty eater. I have to eat a lot to function, so I don't really diet, especially when I have to work out more," said the actress.
"I ended up eating a T-bone steak every night for dinner because we were doing so much muscle work." In general, the Kelly Rohrbach diet plan involves eating whatever she wants as long as she does so in moderation. Her diet plan typically consists of lean meat, healthy fats, and plenty of fruits and veggies. She also snacks on nuts, yogurt, and smoothies to make her feel full for longer.