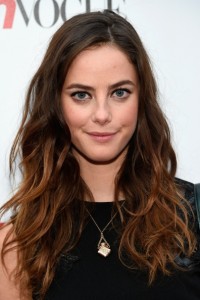 English actress Kaya Scodelario rose to fame when she was only 14 for her main role on the popular British teen drama Skins. This also marked her acting debut, staying on the said show for all of the first four series from 2007 to 2010. She returned for the seventh series in 2013. Simultaneously, she began her movie career with her debut in 2009, then landing a role in the Hollywood film Clash of the Titans. Afterwards, she became more active as a cinematic actress, acting in the British features Shank, Wuthering Heights, and playing the titular character in The Truth About Emanuel released in 2013. She was next cast for a starring role in the movie adaptation of the best-selling novel The Maze Runner (2014), role she reprised in the sequel The Scorch Trials released the following year. She will star in the upcoming sequel of Pirates of the Caribbean, Dead Men Tell No Tales.
Standing at 5'6, the 23-year-old actress is now a familiar face among international audiences courtesy of her notable roles on the big screen, and of course, for starring in Skins, which first gained her attention. With her beauty and talent, a much more promising career is expected of her. Interestingly, despite being so slender, Kaya is not into exercising. She even had to learn how to jog and run when shooting a running scene in Skins before.
How does she get so skinny? Luckily, her metabolism is fast, thanks to her genes. It also has probably something to do with her being young. She even said in an interview that right now she's on the stage of eating whatever she wants because she doesn't get fat. Still, she's aware that this would take its toll when she reaches her 30s. Midway in her 20s, Kaya decided it's time to balance her meals, meaning she cannot eat unhealthy foods all the time. With this, she turns to chicken for protein and vegetable juices as means of cleansing and maintaining her vibrant skin.