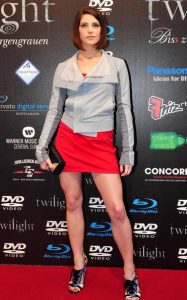 American star Ashley Greene became a well-known figure when she played Alice Cullen in The Twilight Saga. Before this, she had one-episode roles on some TV shows. She also played minor roles in the films King of California and Otis. Ashley was catapulted to the spotlight when she starred on Twilight. As a result, she starred in other films. This includes Shrink, Summer's Blood, and Skateland. She continued her fame in the 2010s with performances in A Warrior's Heart, LOL, CBGB, and Burying the Ex, among others.
It's obvious the Twilight actress has slender and toned figure. Aside from having great genes, she also takes care of her body and her general health. In fact, her fitness is something that she prioritizes. Being healthy is feeling good. Of course, feeling good means having a good quality of life. To achieve this, she eats healthy and works out. Being physically active is not something new for her. She grew up being active. She did martial arts and competitive cheer and dance. She joined the swim and the dive team and played volleyball as well. She also surfed and played watersports.
As for her preparation for her role in Twilight, she did various exercises. Variety is important for her to avoid getting bored. The actress stated doing repetitive activities always bore her. According to her, she did circuit training at a gym while shooting for the film. This helped her set her physical features in the movie. This also helped her with action-oriented scenes. In addition, this helped her have the energy to undergo long shoots. Normally, she runs on treadmill. She's also doing workouts to strengthen her hips, glutes, balance and overall core. She said she's not really a runner, but she's trying her best to keep up. She challenged herself by signing u on a 10K run in New York.