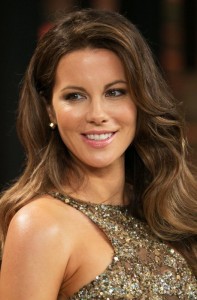 English actress Kate Beckinsale is best known as the kick-ass heroine in the Underworld film series. Starting her career in the early 1990s on television, she made her theatrical debut in Much Ado About Nothing (1993). After several more appearances in movies, she acquired attention in the 2000s for her supporting role in Pearl Harbor and starring role in the romantic drama film Serendipity. After starring as Selene in Underworld (2003), she starred in prominent Hollywood productions such as in the biopic The Aviator as Ava Gardner, Anna Valerious in the fantasy-action feature Van Helsing, and in the comedy-drama film Click. She has also continued playing Selene in Underworld: Evolution, Underworld: Rise of the Lycans, and Underworld: Awakening. Other movies in the 2010s are Contraband, Total Recall, and Stonehearst Asylum. She is currently filming Underworld sequel Underworld: Next Generation due for release in 2016.
Being mostly in action-oriented movies, Kate is required to maintain her toned and lean figure. For her, it's not only appearing sexy, it's also feeling healthy, strong, and agile to portray her characters more effectively. Thus, the actress keeps her health on check regularly through exercises and eating healthy. Working with celebrity trainer Ramona Braganza, Kate practices the 3-2-1 diet solution. This dietary regimen means she has to eat three small meals, two snacks, and consume tons of water daily.
Despite having light meals, she still must consume foods high in protein and fiber so she doesn't get hungry right away. Because of her discipline when it comes to her eating habits, Kate usually eats organic foods. She mostly avoids dairy products and those high in sugar and carbs. What she regularly incorporate into her meals are vegetables, fruits, and lean protein. For breakfast, she has hard-boiled eggs, omelet with onion and tomato, and oatmeal. She likes having chicken, mixed vegetable soup, and steamed brown rice for lunch while her dinner mainly consists of grilled fish, turkey, chicken, and beans. For snacks, she has popcorn, hummus, nectarines with yogurt, kale chips, and walnuts.