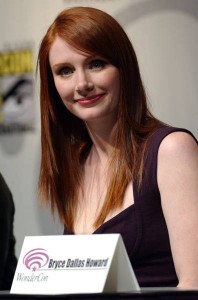 American film actress Bryce Dallas Howard is the daughter of the award-winning director Ron Howard. His father being a big name in Hollywood opened her passion for performing as well. She made her debut when she was eight in one of her father's movies in the late 1980s as an extra. Several years later, during her teens, she once again appeared as an extra in her father's film Apollo 13, as well as in A Beautiful Mind. In 2004, when she was in her early 20s, she gained recognition in her own right when she starred in M. Night Shyamalan's thriller movie The Village. Her acting in the film was also widely praised. Afterwards, she starred in Lady in Water, collaborating with Shyamalan again. More mainstream roles have since followed, such as Gwen Stacy in Spider-Man 3, Kate Connor in Terminator Salvation, and Victoria in The Twilight Saga: Eclipse. She recently starred in the blockbuster hit Jurassic World released in 2015.
The 34-year-old actress is a mother of two. With her busy career as an actress, you might wonder how she has time to take care of herself and manage her figure. But she does exactly that apparently. She has lost weight after giving birth twice and looks fit and fabulous at the same time. What's her secret? Exercise and healthy diet, of course. For once, she takes breakfast very seriously. She always starts her day with Gunpowder tea from Venice with a bit of grass-fed butter melted in it to make it tastier, and she adds a little Stevia into it to make it a bit sweeter. Then she has a spinach and goat cheese omelette with bacon lardons on the side, and with almonds, too. Now that sounds like a perfect breakfast.
When she's at home on the weekends, she's fond of making homemade creamy hollandaise sauce to dig into her cravings. Interestingly, she mostly has a quick snack rather than a full lunch since she's always on-the-go. She loves to eat slices of salami, cubed cheese, and raw almonds. To make her snack meals healthier and yummier, she has a slice of Paleo bread with avocado, a drizzle of olive oil, and a pinch of sea salt. For dinner, she typically has meat for proteins. She particularly likes Rib eye, which she partners with kale and a squeeze of lemon.