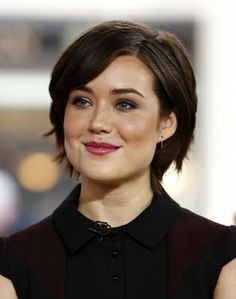 American actress Megan Boone only recently garnered mainstream attention courtesy of her lead role in the popular show The Blacklist. Initially, she began her acting career in the early 2000s when she was around 18, though her debut was only in a short film. It took her several years before she was able to land gigs in feature films and television shows, most notably in My Bloody Valentine 3D in 2009. She also played a role in Sex and the City 2 the following year. Prior to her breakthrough in The Blacklist in 2013, she's had roles in Step Up Revolution and About Cherry both released in 2012. Her character as Elizabeth Keen in The Blacklist has since earned her mainstream stardom due to the show's critical and commercial success. Her most recent role in the cinema was in 2013's Welcome to the Jungle and Family Games.
Standing at 5'6 ½, the 32-year-old actress (turning 33 this year), has efficiently portrayed her character in The Blacklist with several action-oriented scenes, thanks to her slender and lean physique, in addition to being agile as well. As she becomes a household name, fans wonder how the actress maintains her slim body while being strong and healthy at the same time. Amazingly, Megan doesn't have any special diets.
She only follows simple tricks, which is eating nutritious foods and practicing basic portion control to help manage her weight. Specifically, she eats wild rice as her source of complex carbs and then incorporates cayenne pepper, kelps and mushrooms, manchego cheese, and parmesan into her meals to get all the healthy stuff while making sure she's also filled up to avoid getting hungry very often. Another interesting thing about Megan's diet is she eats popcorn when she gets nervous.