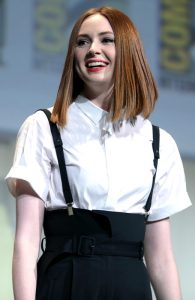 Scottish actress Karen Gillan had her career beginnings in the mid-2000s. During her beginnings, she made guest appearances in Rebus and Doctor Who. Her first regular role was on The Kevin Bishop Show. She returned to the show Doctor Who, but this time as main character Amy Pond. This became her breakthrough role, gaining her wider recognition.
She also appeared as herself on the show Doctor Who Confidential. In the 2010s, she started her film career with her debut in Outcast. She next had roles in the movies We'll Take Manhattan, Not Another Happy Ending, and Oculus. She also played a starring role in the short-lived show Selfie. She became known for playing Nebula in the superhero film Guardians of the Galaxy. She reprised her role in the sequel Guardians of the Galaxy Vol. 2. She's also starred in the recently released feature Jumanji: Welcome to the Jungle.
The Scottish beauty has since appeared leaner and slimmer these past few days. Fans of the actress would know that Karen has since lost weight and developed some sort of bulk in her. This is because she landed a notable role in a superhero movie in Hollywood. For this, she knew she had to change her body, not just for the sake of aesthetics, but for the sake of strength and looking tough as well. In an interview, the 30-year-old actress admitted to going through a vigorous training program to prepare for her role in Guardians of the Galaxy.
Talking about it, she said: "I did a lot of training for that role. I had to work out for two months before. They wanted me to bulk up a little bit, which is funny, because that didn't really happen. I really tried though. She went on to add: "And then, I had to do fight training every day that I wasn't shooting. They told me that you have to do something six thousand times before it's second nature. I didn't manage to do the routine six thousand times, but we certainly tried."