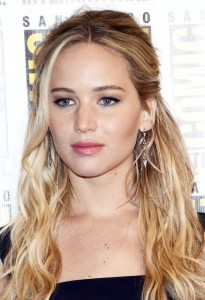 25-year-old actress Jennifer Lawrence began her career in 2006 and got her break a couple of years later in the independent drama Winter's Bone in 2010, which got her an Academy Award nomination for Best Actress. After this, her success on film became subsequent, especially when she won the Academy Award for Best Actress for her performance in Silver Linings Playbook. Her prominence was intensified for playing Katniss Everdeen in the Hunger Games film series, which were all international successes.
Jennifer's charm and knack for acting easily got her thousands, or even millions of fans worldwide. Women idolize her for her confidence, humor, and natural beauty. It's also not a secret that a lot of girls out there want to know how she maintains her healthy and sexy figure. Surely, there's a workout routine and daily diet plans involved, especially when she landed the role of Katniss Everdeen, which as fans of the movies know, are too physical with the action scenes and her character being a fighter.
If there's one thing, the Academy Award-winner actress is not into starving herself just for a role, no matter how great it is. Apparently, she's not into strict dieting as she eats regular foods. She also believes that being healthy is more important than being lean. Thus, she eats normal foods to balance her calorie intake, though she prioritizes on eating fruits and vegetables to receive more nutrients.
It's always essential for her to keep hydrated that's why water is a must. She's also conscious when it comes to her protein intake so she eats special kinds of fish with less fat. She also indulges to such beverages as coffee, tea, and orange juice. Though she doesn't rely on specific set of foods to keep her fit and healthy, it doesn't mean that the actress is careless when it comes to her diet. Because she has a personal trainer, she still follows her workout routine and diet plans made for her.