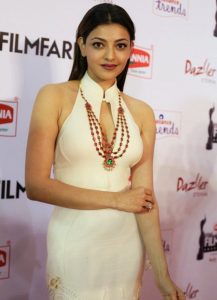 Considered one of the most remarkable Indian actresses, Kajal Aggarwal expands her reach from the Telugu to the Tamil cinema. It all began in 2004 when she made her debut in the Hindi film Kyun! Ho Gaya Na…. A few years later she had her first Telugu role in Lakshmi Kalyanam. Her starring role in the Telugu movie Chandamama gained her wider fame. Another Telugu film, Magadheera, made her more prominent thanks to her acclaimed performance. She has since starred in many other Telugu films. With this, she has cemented herself as among the greatest and top paid actresses in Tollywood. In Tamil cinema, she's best known for her works in Naan Mahaan Alla, Maattrraan, Thuppakki and Jilla. This made her one of the leading stars in Kollywood as well. She also had Bollywood successes in the 2010s. These are the films Singham and Special 26.
She's been in the acting industry for more than a decade and Kajal has managed to look incredibly attractive as ever. The actress has had her shares of struggles in keeping a healthy weight. Thanks to proper nutrition and regular exercise, she's able to obtain a healthy figure. Some actresses opt plastic surgery to lose weight easily, but not the Magadheera star. In an interview, she said: "I believe in going natural." The actress reveals she is a regular in the gym to work out.
According to her, she performs cardio on incline for 45 minutes. She also does one hour Arthro-Pilates classes per week and upper body weight training three times a week. She also swims regularly to help her improve her strength. In fact, the actress admitted herself that she's crazy over fitness and that yoga is one of her fitness routines that helps her keep fit. When asked about her routine, she said she does Yoga three times a week and balance it with weight training three times a week, too.