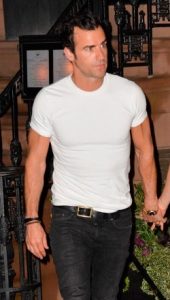 Although Justin Theroux's rise to the limelight was laddered by his romantic relationship and later marriage to Jennifer Aniston, the actor has established his career in Hollywood in his own right. Not only has he built an acting career, he's also established a career in screenwriting and directing. First known for his work in David Lynch's Mulholland Drive, he has since appeared in well-known films, such as Charlie's Angels: Full Throttle and Inland Empire. He soon became established as a writer courtesy of his work in Tropic Thunder and Iron Man 2, both successful movies. In the 2010s, he starred in the movies Your Highness, Wanderlust, as well as in the upcoming film The Girl on the Train. Now he also stars on the HBO series The Leftovers, which he began playing in 2014.
The 45-year-old actor is best known for his chiseled-looking body, which it seems he has had for a long time. Now to maintain a bod like that is amazing. For one, Justin is a healthy eater, which his wife Jennifer had already gushed about. It also helps greatly that it's somehow in his genes to look this amazing considering his age. Of course, it's his workouts that really talk. For one, he's known by his friends to take his exercises seriously. He applies incredible focus and discipline when it comes to doing his workout routine.
Basically, he does weight sessions and resistance exercises at the gym. Prior to these, he undergoes 40 minutes of cardiovascular activity to enhance his stamina and help him boost his energy for his other routine. He's also an avid runner, and interestingly, he breakdances. One thing he never misses to do is the reverse crunch, which is ideal for toning abdominal muscles. No wonder his torso is the best thing you can see today.