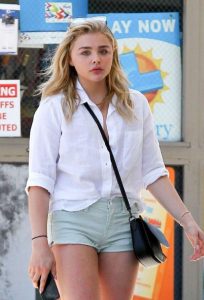 Hollywood star Chloë Grace Moretz had her career beginnings in the mid-2000s as a child actress. Her first notable role was as Chelsea Lutz in The Amityville Horror. The new couple of years, she had several supporting roles on the big screen. This includes Big Momma's House 2 and The Eye, among others. She got her breakthrough in 2010 with starring roles in Diary of a Wimpy Kid, Kick-Ass, and Let Me In. She next starred in the films Hugo and Dark Shadows. Her next role was as Carrie in the movie of the same name. More recently she had lead roles in such films If I Stay and The 5th Wave. She also starred in The Equalizer alongside Denzel Washington, as well as in the French movie Clouds of Sils Maria. This year, she starred in I Love You, Daddy and November Criminals.
The 20-year-old actress takes her health and fitness seriously. Despite being young, she workouts regularly and eats a clean diet most of the time. She also shares how she works hard to achieve her fit body. She also revealed that she doesn't just naturally look the slender way and has to have the discipline to work hard for her body. In an interview, she was noted for saying:
"The reason I have this body is because I work out seven times a week. Yes, I eat really clean – even though I don't always want to, and I definitely cheat. But you're not just born with this. Sometimes you have to fight for and work for things, and be happy with who you are at the same time. And that's a really hard balance but I want to show it to young women."
But what exactly is her fitness regimen? According to reports, the actress spends time doing SoulCycle regularly. She also likes hitting the gym to workout whenever she can. She does some minor weight lifting to improve her strength, as well as lots of cardio.